It is an established fact that technology has assisted us to effortlessly and speedily engage in multiple activities ranging from occupational affairs, to entertainment and recreational pastimes. But lately, it has also taken over the role of bringing people together to unfold all kinds of relationships. This advancement is like no other because it makes innumerable people available at your fingertip!
Although this may be a great start to something new, dating apps are not devoid of their consequences. Read on to know more!
Acknowledging it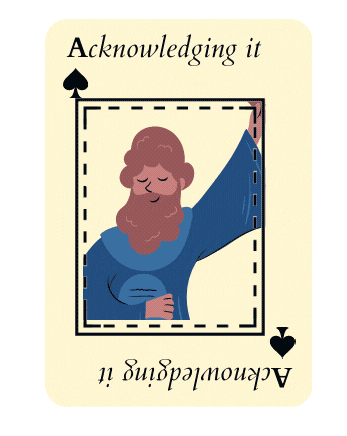 There has been a significant spike in the usage of dating apps and other online platforms all around the world. According to statistics, Tinder is the dating app that has the largest number of Indian singles. About 17% of the population indulged in swiping right (or left) on the app and belong to diverse age groups and locations. Bumble also gained recognition as it prompted women to make the first move. The increase in its prevalence has helped break multiple stereotypes surrounding finding people online and has also changed the perspective on women initiating conversations.
There are several reasons why people join dating apps ranging from finding a partner or a friend to having a 'fling' to dust off loneliness and so on. This may explain the 20-25% surge in the usage of these apps in India during the pandemic. It adds to our virtual social life in this time, making days more fulfilling with something to look forward to in these uncertain times.
But, it is important to remember that just like anything else, dating apps have two sides to consider:
The boon:
It is a convenient way to meet large number of people at once, which may be physically impossible
Helps find like-minded people
Helps socialize
Saves time and makes it less awkward as it allows us to get to know someone before we decide to go out on a date or meet them
Many find real connection on dating apps, making it a positive experience
Dating apps like Grindr are inclusive of the LGBTQ+ community, promoting the idea of love for all
The bane:
These apps place a lot of value on swiping based on physical attractiveness, narrowing a person's value based on looks
Profiles may not always be representative of the individual
Higher chances of stranger danger due to several accounts that are fake or impersonating others
Ultimately, knowing the pros and cons of these apps may play an important part in helping us balance out these consequences. Although it can be a great space with ample possibilities, it is in your best interest to indulge with caution.
Keeping it casual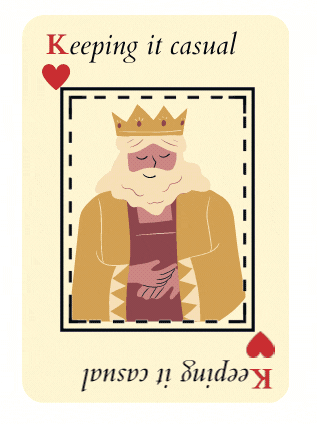 Let's talk about (casual) sex, baby!
Sex (whispers) is treated as a taboo topic in our society. Ironic, because we are all products of sex. The availability of dating apps and the engagement in these apps have certainly normalized sex (with protection and consent, of course) when compared to the past. Many use dating apps as a segue to casual sex or other sexual encounters.
Friendly reminder: have all the protected sex you want, no judgement here.
But, does casual sex really come with no strings attached?
Let's help you answer that question.
Although casual sex is often associated with sexual satisfaction and feeling attractive, it may have mental health disbenefits depending on the motive behind the act, making it a subjective experience.
Step 1: Decide if you want to have casual sex
Step 2: Ask yourself "why?"
Step 3: Make sure you are doing it for the right reasons. Here are some examples.
Right reasons (autonomous motives)
For sexual pleasure
To explore sexuality
Wanting the experience
Wrong reasons (non-autonomous motives)
To take revenge on someone else
To feel "wanted"
Peer pressure
A study showed that when the motive of casual sex is 'right', it does not impact mental wellbeing while the 'wrong' motives do. Non-autonomous motives for casual sex led to lower self-esteem, higher depression and anxiety. Wherein engaging for the 'right' reasons had the exact opposite effect! It boosted self esteem and didnt have an impact on their level of depression or anxiety.
So, the next time you're thinking of casual sex, make sure to do it for the 'right' reasons.
Quoting facts (studies)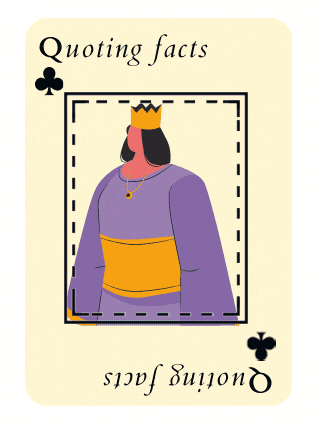 These are some of the downfalls of engaging in dating apps but experiences may vary from person to person.
Jot this down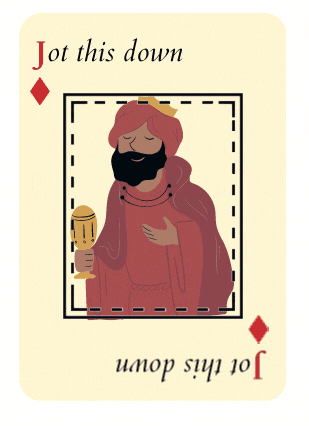 There are some inescapable situations that come with being on dating apps and we'd like you to take a note of it before you jump right into it.
'Ghosting' is one such phenomenon. These apps make it convenient to disengage with those of whom we may have initiated conversations with. Although this may leave you feeling disliked or rejected, it is not a determinant of your worth. People are subject to their own judgements which aren't always accurate, especially when on a screen.
There were also a significant number of experiences of harassment on these apps. More women than men had such experiences, leaving them with damaged self-esteem and heightened chances of showing symptoms of depression.
These are some of the commonly reported concerns of online dating apps and are things to keep in mind before entering the world of swiping.
You have reached a checkpoint: 9 reminders for ya mind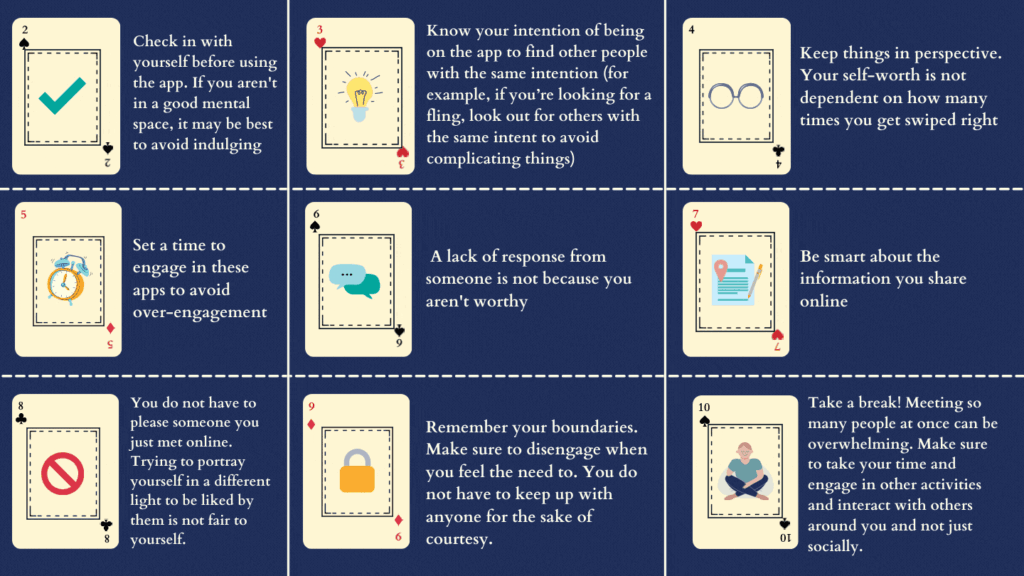 On an endnote, online dating can be quite daunting. Feelings of hopelessness sometimes start to linger when we are endlessly swiping, but unable to find a true partner and these feelings are completely valid!
Our message to you: Hang in there and take yourself out on a date. Let no day be one without self-love !